Blink Vision Centre are independent Optometrists and Glasses specialists, established since 2007 in Kidderminster. If you are looking for an Opticians in Kidderminster, we would love to hear from you.
All of our Optometrists are fully qualified and registered with the General Optical Council in Harley Street London. Our Optometrists will give you a fully comprehensive 30 minute eye exam, using the latest equipment, and explain the outcome and recommendations at the end of the test. All with the convenience of a local opticians in Kidderminster.
Looking for Opticians in Kidderminster and need some advice?

Please call us:
We will be happy to assist with any queries over the phone, or pop and visit us in Kidderminster town centre to discuss in person. 
If you're looking for an Opticians in Kidderminster or simply in need of some free advice, we look forward to hearing from you.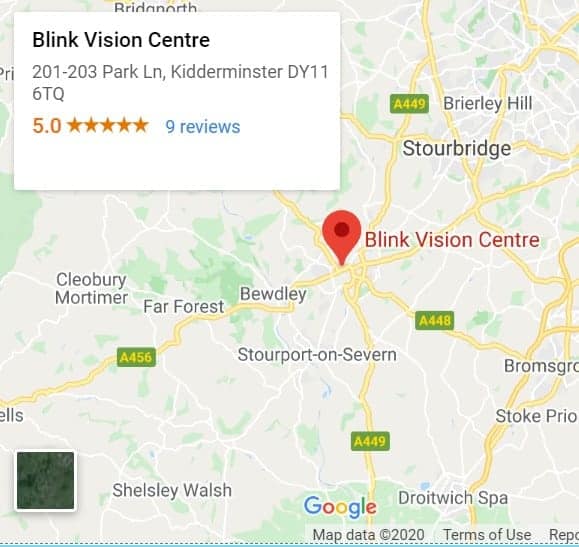 If you are searching for the below then please contact us for advice
Opticians in Kidderminster
Blink Vision Centre is the best choice for Opticians in Kidderminster, Opticians Kidderminster, and Kidderminster Opticians. If you are looking for an Opticians, then it is best to speak to a local and trusted company like us.
In addition, if you are looking for an Eye Exam, then our Eye Test Kidderminster or Eye Exam Kidderminster service is perfect for you. We offer a choice of free eye test with NHS entitlement, or a private eye test for just £25.
If you need glasses, we offer a fantastic buy-one-get-one-half-price promotion on glasses.
Whatever you are looking for, even if it is just some free advice, please contact us today.
Buy one pair get another pair
half price